Muffin cups are round sheets of paper, foil, silicone, or metal,[3] with scallop-pressed edges, giving the muffin a round cup shape. They are used in the baking of muffins to line the bottoms of muffin tins, to facilitate the easy removal of the finished muffin from the tin.
The advantage to cooks is easier removal and cleanup, more precise form, and moister muffins; however, using them will prevent a crust.
Rhubarb & strawberries muffins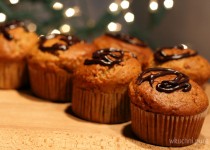 Recipes for muffins, in their yeast-free "American" form, are common in 19th century American cookbooks. Recipes for yeast-based muffins, which were sometimes called "common muffins" or "wheat muffins" in 19th century American cookbooks, can be found in much older cookbooks.
Prep Time:

20 minutes

Cook time:

25 minutes

Yield:

12

Rating:
Nutrition facts:
Calories
:
200 kcal
;
Fat
:
78 grams
;
Ingredients:
Instructions:
In a large bowl, combine flour, baking powder and salt.
In separate bowl mix milk, oil, vanilla, egg and sugar.
Add dry ingredients to moist ones bit by bit, stir well.
Fold in walnuts, rhubarb and strawberries.
Divide batter between muffin cups lined with paper cups (12 pcs).
Bake for 20 - 25 minutes, until light golden brown (in preheated oven, in 180 C degrees).